ShareThePoint Ltd. is proud to bring to you the Digital Workplace Training Online School. Learn Office 365 online with real-world, practical, hands on, relevant courses. We offer Self-paced Monthly Subscription courses where you learn at your own pace in your own environment. You subscribe for as long as you need to learn the information. Many of these courses are also offered as Virtual Classes which are instructor-led, scheduled classes. See the calendar for current times here.
ShareThePoint Ltd. (est. 2007) comprises a dedicated team of people who are passionate about Office 365 and SharePoint. We enjoy training and helping people gain knowledge. Our expertise comes from not only understanding the capabilities of the products, but also in being able to align this with the business benefits. We like to keep things simple! After over 12 years of providing quality in-person classroom and private onsite training courses (which we still offer!), we now take these valuable materials and make them available to you anywhere, anytime!

ShareThePoint also organises the annual Digital Workplace Conferences in Australia and New Zealand - no place else to get such dedicated Office 365 learning in such a short time. The next event is in Sydney August 6-7 www.dwcau.com.au for more info.
How can we help you with your Office 365 Journey?

Take a look at the statements below, to see what fits, for where you are at, and the corresponding courses that may help you along your journey.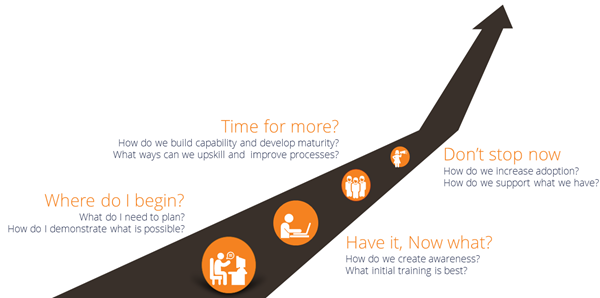 Where do I begin?
We're migrating to Office 365 soon and need to understand what that will mean for us

We don't know what any of the Office 365 apps do but feel like we should use them to get the most out of our investment

We have migrated to Office 365 and need to start planning how we are going to use it for organisation and team content sharing

There are so many ways to do things in Office 365, we don't want people to get lost

We've rolled out Office 365 but people don't know what to use and when

Our IT department is sold on Office 365 but we need business buy-in

We're an IT partner and need to help our clients plan how they will use their Office 365 apps to meet their business needs

We want to make sure we are creating an architecture that supports the way people work (like using mobile devices)

We have had Office 365 for a while but really only using office applications and email. We want to know if any of the other apps would be useful for us
Courses Available
For Virtual Classroom - please check the calendar for upcoming dates
Have it, Now What?
We've worked out what apps we want to use and now we need to work out how we're going to use them

We need to build an Intranet but we're not sure where to start

We've decided to use Teams for our collaboration workspaces but we're not sure where to start or what things we need to be aware of

We want to make sure we don't just dive into Office 365 without putting thought into what and how it will be governed

We need to make sure we are meeting our information retention obligations but not sure how those can be accommodated in Office 365

We want to maximise efficiency and productivity, and how we roll out the tools will impact that

We want people to feel supported and confident with the changes they will experience when we move to Office 365

We want to make sure people aren't overwhelmed with too much information at once

I am taking over as a content manager so I need to learn the how-to of managing information (in Teams, SharePoint, etc)

When we have new starters, how will we support them to get up to speed with our systems and processes (or when there are role changes)

We frequently need to work with people outside our organisation. How can we best achieve this?
Courses Available
Time for more?
We need to build internal capability for content managers

We seem to be experiencing some content sprawl - we're not sure why its happening or what to do about it

There are opportunities to use some of the tools more extensively in some areas, and we need some help to understand how we can do this

Our business units have specific processes that need building in to their tools

What tool should we use for a specific business process or to solve a particular problem?

We have some paper processes that we want to digitise. How could we do this?
Courses Available
Don't stop now
We've rolled out Office 365 but people are reverting to the old ways of doing things, so we need to go back to the drawing board

We want to make sure people are using the tools that are already in place

How can our employees help each other by leveraging the expertise that have built up internally?

How can we best continue to manage changes that are released by Microsoft?

What kind of ongoing support can we put in place for ad-hoc 'how do I' questions?

What kind of ongoing support can we put in place for process improvements and change requests?

What kind of ongoing support can we put in place for refresher training?
Courses Available
See list under

"We want more"

(use as refresher courses)
For tailored training, consulting, individual coaching or a checkpoint support arrangement, email

[email protected]
What Are My Options?
We deliver training in a number of ways.


For more information click on the course of interest or email us at [email protected]
Delivery Type

Descriptions

Self-Paced

Learners can do the work in their own time, at their own pace. Materials include informational slides, videos to demonstrate concepts, exercises to guide learning and quiz's to assess knowledge transfer.

No instructor present.

Virtual Class

These are scheduled sessions (3 over a week) which are Instructor Led. The participants are required to attend for the full duration. The Instructor is on hand to guide attendees through the concepts, demonstrate and assist with exercises and answer questions. Pre and Post work is a requirement of this course.

One month's access to the online materials is included.

Public Class

Participants physically attend course held in various locations across New Zealand as scheduled (delivery is dependent on minimum registration numbers being reached)

Onsite Class

Currently available in New Zealand and Australia - an instructor delivers this course to a group of 12-16 participants at your workplace.

Training can take place in your O365 environment, and limited access to online materials in included. The courses can have modules more tailored to the needs of your organisation.