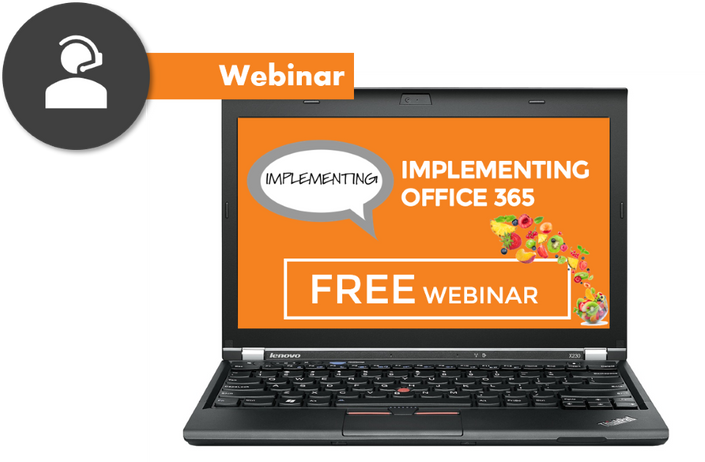 Webinar: Implementing Office 365
Free Online, On-demand Session introducing the Fruit Salad Formula, full of practical tips and tricks for implementing Office 365
The world of IT (and the teams that support it) is changing – how we implement new technology is changing – how we adapt and mature our users is changing. All of this is important to note when planning an Office 365 roll out, or getting the most from what you have already.
So – how do you plan to implement the changes Office 365 introduces?
Using the Fruit Salad Formula we combine the different ingredients that need to be considered when implementing Office 365 – demonstrated through tried and tested methods – and tasters along the way to make it real.

YOU are, however, the final creator of your own recipe: one that fits your organisation's needs.
We will look at how these ingredients can be put together in various ways to suit the individual – complex or simple, iterative, easily changed and usable solutions that can grow as maturity increases.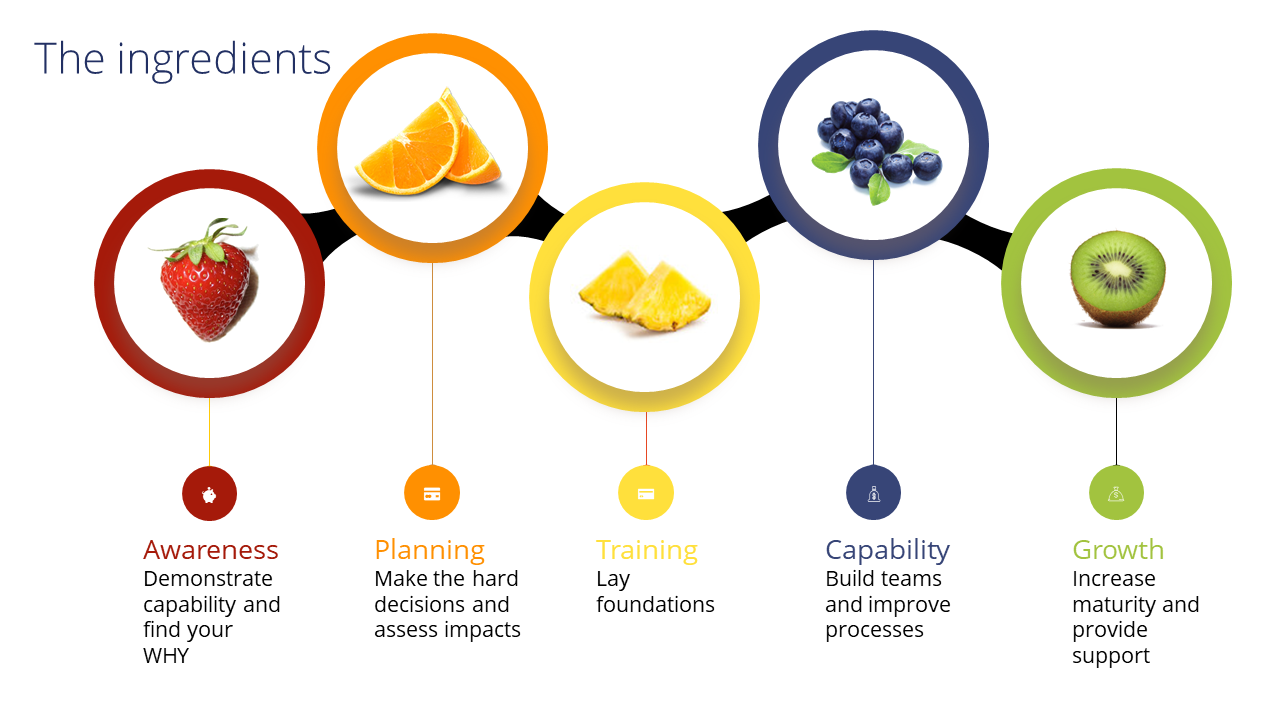 The end result: a fruit salad that meets your company's tastes (and requirements)!

And that's the formula we want to share! Lots of stories to tell!
Key takeaways
How do you approach a simple, effective digital transformation – getting the most from the Office 365 offering, while not overwhelming your people?
What are the key considerations when implementing Office 365?
What do you do, and more importantly why to get people engaged with this new way of working, using the tools but also making the behavioural changes you need to instil?
Who is this for?
This webinar is suitable for anyone looking to implement Office 365.
Small to Medium sized businesses: this is usually the Manager/Admin/IT roles (which as we know could be all in the same person!).
Larger organisations:
Project teams in charge of the Office 365 deployment, Project Managers , Change Managers
Senior Management - we find many managers interested in knowing elements of this so they know what they are in for!
Sponsors from various business areas
Operational roles including those trying to drive adoption
Learning and Development staff (trainers) and Human Resources
Support Roles - IT, Digital Services and anyone who needs to support the implementation
ANYONE who may need to be involved in the initial decision making around the roll out of Office 365 and related technologies.
READY TO TAKE THE COURSE INSTEAD? The Fruit Salad Formula has been made into a comprehensive, self-paced course, with over 2 hours of videos and worksheets to help you along your implementation journey. Enrol here.
Questions? Email [email protected]

Your Instructor

Debbie Ireland is the Founder of ShareThePoint Ltd, a New Zealand company which specialises in Office 365 training and implementatio.
Her focus is helping people understand the business capability and productivity gains that Office 365 can provide. From awareness and education, to change management and adoption, and everything in between. Debbie thrives on the people aspect – understanding the why, along with the what and the how.
Debbie has an extensive Project Management and Solutions background and was awarded the Microsoft Most Valuable Professional (MVP) Award for nine years. Debbie lives in the sunny Bay of Plenty in New Zealand.
Web: www.sharethepoint.com
LinkedIn: Debbie Ireland
Twitter: @debbieireland
Debbie also organises Digital Workplace Conferences in New Zealand and Australia.

This course is not open for enrollment.
NOTE: By registering for a Webinar, you understand that we will be sending administrative and follow up emails. You can unsubscribe at any time.